About
Camille Desjonquères
About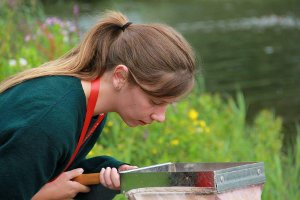 I study the ecology and evolution of acoustic communication. I strive to understand how the biotic and abiotic environment affect acoustic signaling in animals. I am particularly interested in the dynamics of acoustic communities and the effect of social interactions on acoustic signals. I am currently conducting two main lines of research: developing methods of passive acoustic monitoring in various environments and in particular in freshwater environments and understanding the role of socially mediated plasticity in rapid adaptation and reproductive isolation.
I am currently a post-doctoral fellow in Wilfried Thuiller's team at the Université Grenoble Alpes where I am setting up a network of acoustic recorders along elevational gradients in the Alps and the Pyrenees to monitor mountain environments.
I was previously a post-doctoral fellow between Rafael Rodriguez's lab and Nathan Bailey's lab where I studied the effect of social environment on mate choice in insects that communicate with substrate-borne vibrations.
Before that, I was a post-doctoral fellow working with Diego Llusia in the Departamento de Ecología (Universidad Autónoma de Madrid) where I studied the effect of climate change on frogs.
I did my PhD on the acoustic diversity and ecology of freshwater environments supervised by Fanny Rybak and Jérôme Sueur.
You can find my — somewhat up to date — CV here.
I am happy to collaborate on any project related to ecology, diversity and evolution of acoustic communication. You can reach me at cdesjonqu@gmail.com.